Navigating the multifamily real estate market in Illinois has always been a journey marked by opportunity, but it's no secret that today's landscape brings its own unique set of challenges. The presence of high-interest rates undoubtedly poses a formidable hurdle, but beneath the surface, there is a resilient market that, despite the headwinds, continues to offer potential for growth and investment.
In this article, we'll delve into the complexities of the Illinois multifamily market, shedding light on both the hurdles and the promising opportunities. The goal of this article is to provide you with a data-driven and realistic, yet optimistic perspective on the state of the Illinois multifamily market.
Capital Markets Update
The rising interest rates have undeniably added a layer of complexity to securing loans for large multifamily deals in Illinois. Lenders have understandably tightened their criteria, and debt service coverage ratios may not look as favorable as they once did. However, it's important to note that this challenging landscape is not an insurmountable barrier. Investors and brokers are adapting to these conditions, exploring creative financing options to make deals happen.
Debt service coverage ratios have also played a significant role, leading to lower loan-to-value (LTV) ratios that may deter buyers in the value-add space. The 10-year treasury's recent ascent to 4.8% and anticipated Fed hikes have prompted clients to explore relationships with local and regional banks for refinancing, citing lower DSCR requirements, higher leverage, and flexibility compared to agency debt.
To better advise our clients, we've adjusted our internal valuation methods a handful of times over the past twelve months, much of which was post-chat with leading appraisers and lenders. A recurring discussion has been to mark properties that traded prior to '23 as obsolete sale comps due to the differences in debt markets.
Rent Trends (Chicago MSA)
Here's a look at the rental trends in the Chicago MSA over the past five years: 

The average overall market rent in the Chicago MSA is settling around $1,692 in Q3 2023, marking a slowdown but continued growth of 2.6% year-over-year. However, the vacancy rate throughout the MSA should be looked at as encouraging. Vacancies have remained steady, floating around 5.5% over the past three years, with vacancy quickly improving from highs of nearly 8% during the pandemic.
Additionally, the Chicago MSA has 12,813 units under construction, which is 2.3% of the current stock. This remains fairly consistent with previous years, although 2023 has seen fewer construction starts than usual.
Submarket Snapshot – Bloomington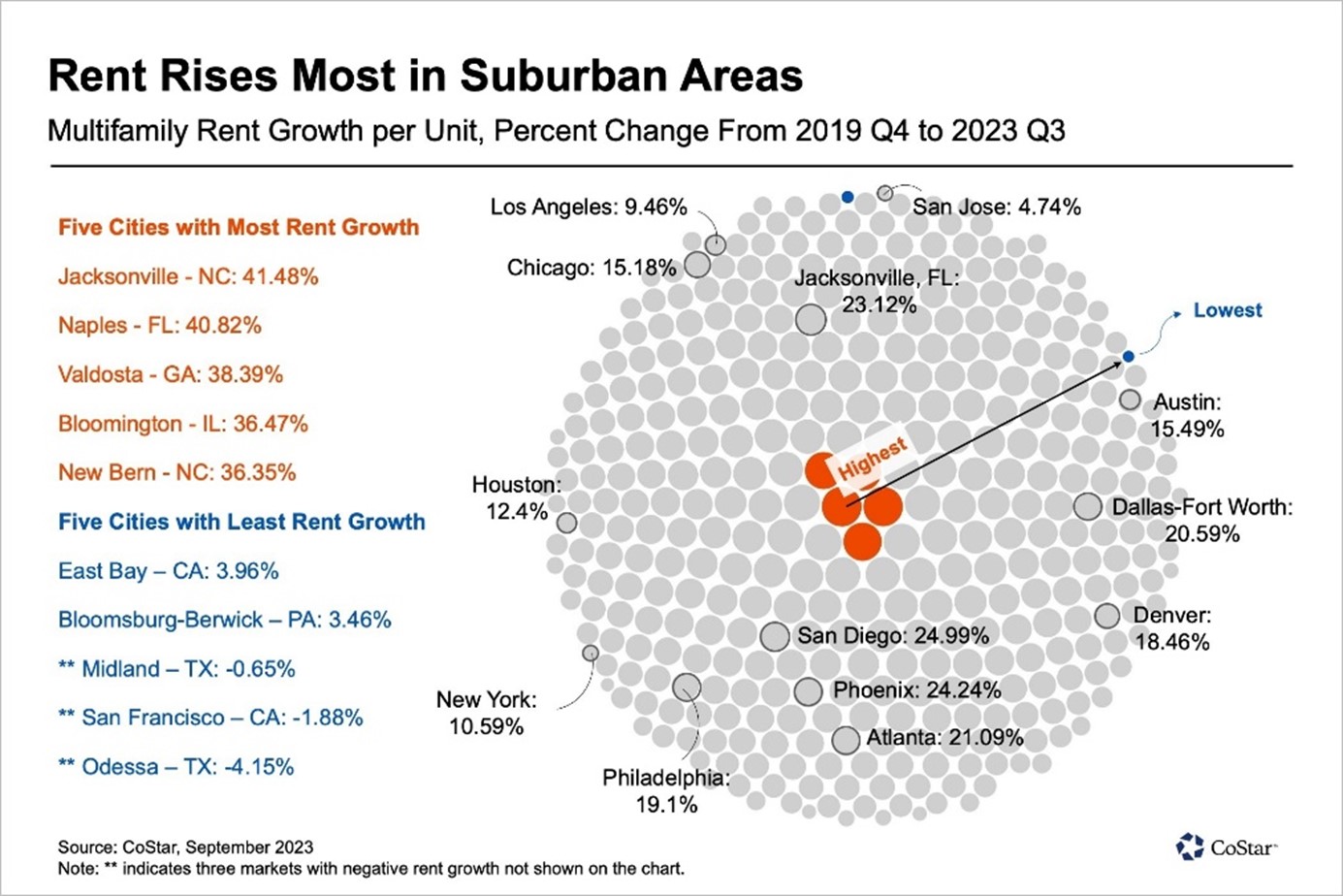 Before the pandemic, people were willing to pay a premium for homes with a high level of walkability in the large metropolitan areas in the U.S., according to a new report from the American Enterprise Institute. When the pandemic started, this trend narrowed, then flipped, causing home prices in "less-walkable" areas to accelerate at a much faster rate. This trend is something to keep an eye on as our own Bloomington, IL ranked Top 5 in rent growth post-pandemic.

Overall Market Dynamics
For real estate investors seeking opportunities in Illinois, several cities stand out as excellent choices. The table below highlights the major submarkets in Illinois and some key market/demographic indicators.

Chicago, IL offers an average rent of $1,691 with a 2.6% annual rent growth, indicating a steady trajectory for its market.

Champaign-Urbana, IL is another compelling option, featuring an average rent of $1,064 and an impressive annual rent growth of 6.4%.

Peoria, IL, with an average rent of $968 and a 3.4% annual job growth, presents an opportunity for upside.

Bloomington, IL stands out with an average rent of $1,073 and a remarkable annual rent growth of 7.9%, making it a hotbed for real estate investment (as highlighted above).

Springfield, IL, offers a solid rental market with an average rent of $901 and a 6.2% annual rent growth, further enhancing its appeal to investors.
These cities have strong rental markets and are poised for strong growth, making them attractive options for real estate investors looking for solid returns in Illinois.
Interesting Sale Data

In closing, let's take a final look at the Chicago MSA market as a whole. Examining the graphic above, we can observe the sale volume and average sale price for trades exceeding $20 million. What's apparent from this data is that, while sale volume has decreased by 15.3% over the past five years, sale prices and sale prices per unit have actually seen an increase of 7-10%. Despite a slowdown in the market, property values have remained resilient, showing no significant decline as a result.
How Can We Help?
If you need assistance in assessing the value of your property or require proprietary market information and data, please feel free to reach out to Will Cornish and Jackson Medina. You can also connect with them on LinkedIn for the latest!  updates and insights.