For years, Chicago-based multifamily brokerage firm Kiser Group has been the dominant player in Chicagoland's mid-market. Last year, after a few long-term brokers left the firm, Kiser Group took the opportunity to re-examine and re-define the firm's goals and mission. The focus was to determine what is best for the client. In an industry where brokers often race each other for the highest commission, many become competitive with each other and end up working mainly alone. Through incentives created for mentorship and collaboration, Kiser Group's new motto has become "all for one and one for all," resulting in more teamwork, better-trained brokers and satisfied clients.
Bisnow sat down with Kiser Group director Noah Birk, director of marketing To-uyen Vo, director Michael D'Agostino and new Kiser Group broker Tanius Stamper to discuss how the company ethos has furthered its success as a mid-market powerhouse.
Bisnow: What was Kiser Group's company culture like in the past?
Birk: Brokerage is an incredibly competitive field, an eat-what-you-kill atmosphere. Being compensated solely by commission can often create a me-first mindset for individual brokers, and I think that was the case years back — before Kiser Group became what it is today. I think Kiser Group has a great mix of veteran and newer brokers, and it has allowed us to come together as a team. We realized that, no matter which broker is financially benefitting for a given deal, their success ultimately benefits all of us.
Bisnow: How does Kiser Group foster a team environment in such a competitive field?
D'Agostino: We have overhauled our culture and compensation structure to develop and retain top talent. These changes were discussed for six months between ownership and senior brokers to create a policy for that would achieve this.
Vo: We created a place where people want to work and changed how we function internally. One of the things that we did was build a game room for everyone; it is a lounge area where everyone can unwind. We make sure that once a month we go out as a team outside of the office. This month we are doing Whirlyball, and last month we went to an escape room. You can see evidence of the office's new inclusive environment in something as simple as lunch. Around noon you'll hear, 'What are we eating for lunch?' If there are lunch-packers, the others will go buy lunch and bring it back so we can all eat together. We even had to get a bigger table in the kitchen to fit everyone.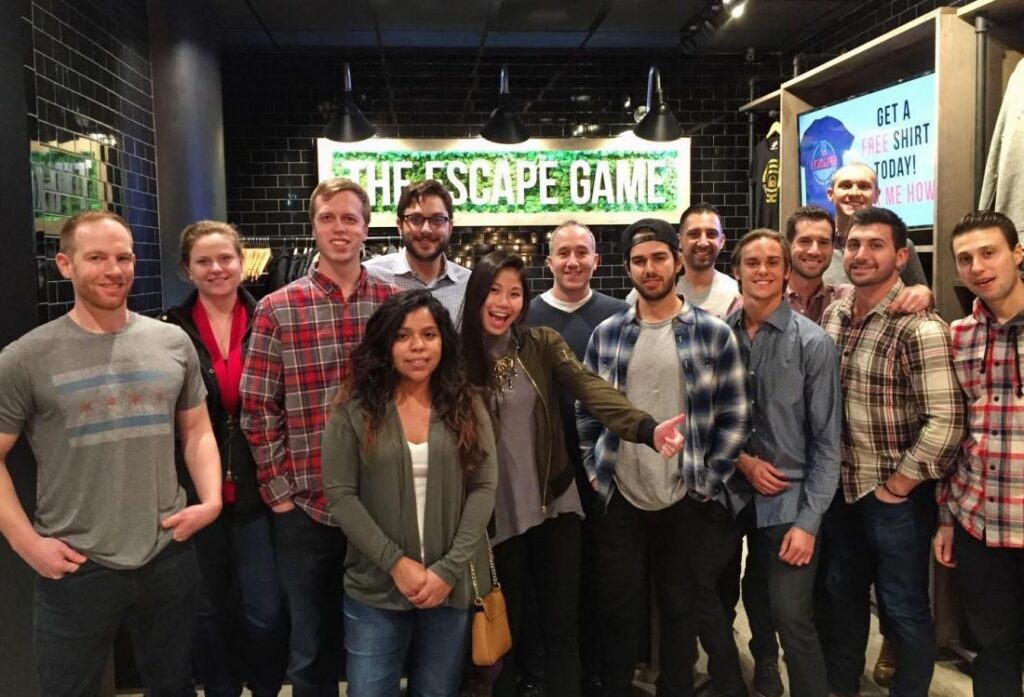 Birk: What we do at Kiser Group is foster mentorship by having senior brokers mentor the associate brokers. The seniors are connected to that associate broker on both a financial and a relationship level. Even after that junior no longer needs a senior, Kiser Group has opted to take a lower house split and give a portion of what the associate earns to the senior for training that former associate. This continues for the rest of those brokers' time at Kiser Group.
Vo: There is an open door policy where everyone is trying to help each other. No one feels intimidated by another. Whenever there is a question, people work together to answer it. Even the principal is available for questions, and every director will go out of their way with a mentee — or a broker who is not their direct mentee — to show them the ropes. Courtesy of Kiser Group The firm created a lounge and game room in which the team can unwind and de-stress.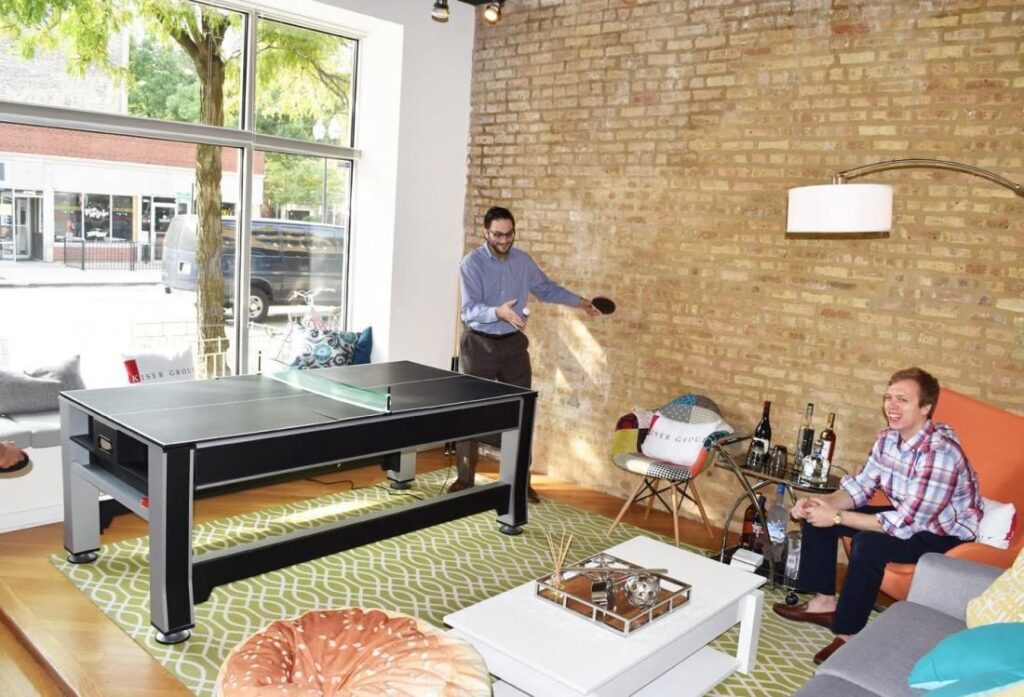 Bisnow: Why overhaul the compensation structure?
D'Agostino: To build a firm that retains good talent. With the collaboration between ownership and brokers, our new comp structure creates no ceiling and has more incentives for younger brokers. Junior members are working more with senior brokers than ever before.
Stamper: Kiser Group has a very competitive comp structure that puts more in my pocket.
Bisnow: How has the change in company culture attracted new brokers?
D'Agostino: The company had less than 10 people when I started here in 2012. Now Kiser Group has over 20 employees.
Stamper: Kiser Group's reputation attracted me to the firm. Since joining Kiser Group six months ago, I've found the culture to be inclusive.
Bisnow: How has the internal restructuring benefitted your clients?
Birk: Clients end up getting brokers that are trained to use all of their available resources — which are the other brokers at Kiser Group. That is unique because normally when you are buying or selling a building, you are working with just the one broker rather than an entire team. Anytime we have a question on the right direction to take, the answer is always whatever is in the best interest of the client.
Stamper: You want a local firm that knows the neighborhoods so you do not waste your time. I prefer being a West Side expert instead of focusing on multiple markets. Kiser Group has been a nice segway from being at a national firm to working at a local firm that operates like a national firm.
D'Agostino: Kiser Group has a strong name that resonates with clients. We are also an honest group both on the buy and sell side. Integrity is why clients come back.
Bisnow: How will Kiser Group continue to grow in the coming months?
Birk: Over the past 12 to 18 months, Kiser Group has been the most active mid-market multifamily brokerage firm in Chicago, and I think our team mentality has been a big factor in that success. The overwhelming volume of deals that we are closing attracts many new clients. They see our successful results time and time again, and want those results for their buildings.
See Article Here